Overview of the Campus
College of Argiculture, Susunia, Bankura an extended campus of Bidhan Chandra Krishi Viswavidyalaya was established on 20th July, 2015, inspired by Smt. Mamata Banerjee, Hon'ble Chief Minister of West Bengal. This agriculture college is situated at latitude 23o19'13" North and longitude 86o 57'32" East and closed to Bankura-Purulia NH-60A road (0.8 K.M) and nereby Chhatna Railway station (1.8 K.M.).
Agriculture accounts almost 70% of the Bankura district's income, whereas 80% of the farmers are small and marginal. A vast area of this district is not cultivable due to undulation of land, degraded quality morum soil and huge problem of water scarcity. Department of agriculture, Bankura, Govt. of West Bengal involve in various agricultural activities to increase production of agricultural and horticultural crops. Beside education programme, College of Argiculture, Susunia, Bankura was established with view to make farmers field cultivable by providing technology, knowledge, training and planting materials. Prof. Asit Kumar Chakravorty, the then Honorable Vice-Chancellor of Bidhan Chandra Krishi Viswavidyalaya, Mohanpur, Nadia and Prof. Susanta Kumar Sarkar, the then Associate Dean, College of Agriculture, Susunia Bakura have immense effort for establishment of this College. College of Agriculture (as an extended campus of BCKV) was established at Kara Daptor Land, ITI college, near B.D.O office, Susunia, Bankura, Pin-722132 and it started functioning from 21th July, 2015 initially with the strength of 27 students, 11 teachers and 2 office staff.
List of Teachers, College of Agriculture (Extended Campus of BCKV), Bankura
Sl no.
Name
Designation
Contact
Photo
1

 Dr. Susanta Kumar De

Curriculum Vitae

Associate Dean

Email: This email address is being protected from spambots. You need JavaScript enabled to view it.,
              This email address is being protected from spambots. You need JavaScript enabled to view it.
Mobile: 9433438870




2

Dr. Anita Hansda

Curriculum Vitae

 

Assistant Professor, Agronomy
Email :

This email address is being protected from spambots. You need JavaScript enabled to view it.

,
      

This email address is being protected from spambots. You need JavaScript enabled to view it.


Mobile:9474690936,9635646671

3

Dr. Sujit Mal

Curriculum Vitae

 

Assistant Professor, Agril.Chemistry and Soil Science
Email:

This email address is being protected from spambots. You need JavaScript enabled to view it.


Mobile: 9434013657

4

Dr. Pranay Rai

Curriculum Vitae

Assistant Professor  Agril.Entomology
Email:

This email address is being protected from spambots. You need JavaScript enabled to view it.


Mobile: 9932252894

5

Mr.Tara Sankar Murmu

Curriculum Vitae

Assistant Professor, Agril.Extension
Email:

This email address is being protected from spambots. You need JavaScript enabled to view it.


Mobile: 9474165391

6

Dr. Tirthankar Biswas

Curriculum Vitae

Assistant Professor,Genetics and Plant Breeding
Email:

This email address is being protected from spambots. You need JavaScript enabled to view it.


Mobile: 8768321559

7

Mr. Mrinmoy Mondal

Curriculum Vitae

Assistant Professor

Plant Pathology

Email:

This email address is being protected from spambots. You need JavaScript enabled to view it.


Mobile: 9038144192

8

Dr.Sanjoy Shil

Curriculum Vitae

Assistant Professor  Plant Physiology
Email:

This email address is being protected from spambots. You need JavaScript enabled to view it.


Mobile: 9932382691

 

9

Mr. Bidyut Das

Curriculum Vitae

Assistant Professor, Ag.Engineering
Email:

This email address is being protected from spambots. You need JavaScript enabled to view it.


Mobile: 9932403213

10

Mr. Sanjay Bairagi

Curriculum Vitae

 

Assistant Professor (Teacher in charge), Horticulture
Email:

This email address is being protected from spambots. You need JavaScript enabled to view it.


Mobile: 7319489756
Officer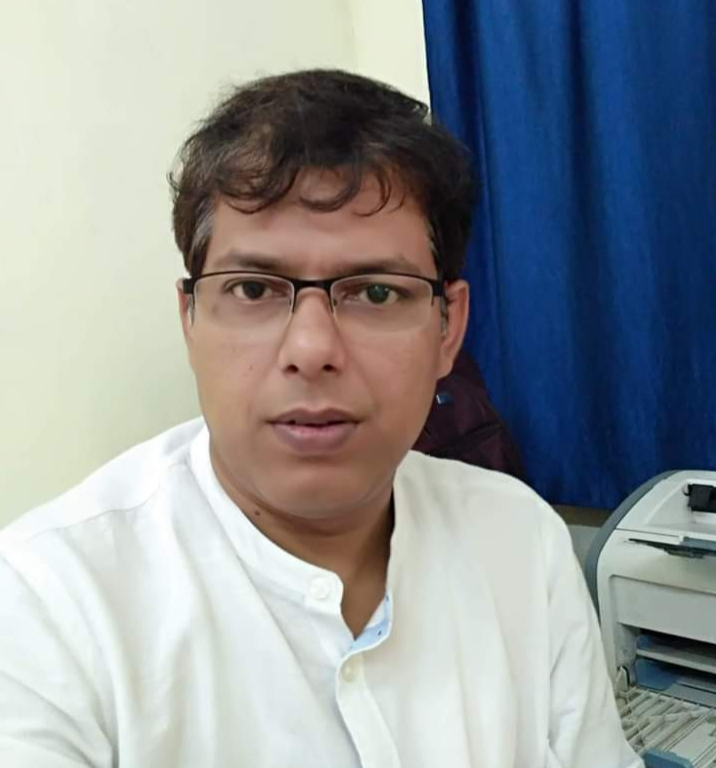 Dr. Tarun Majumder
Assistant Registrar
Email: This email address is being protected from spambots. You need JavaScript enabled to view it.
Phone No : 
Address
Address for Communication:
(Extended Campus, Bankura)
Kara Daptor Land, ITI college
Near B.D.O office
Chhatna, Bankura, Pin-722132
Email:
This email address is being protected from spambots. You need JavaScript enabled to view it.
Phone No :