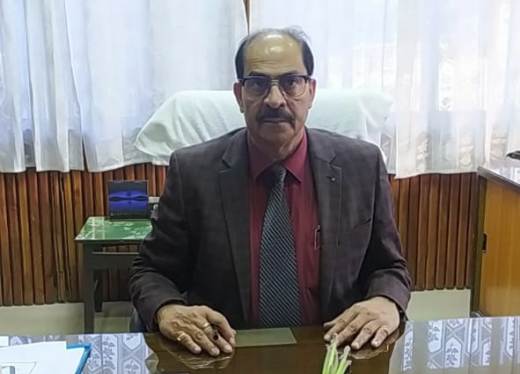 Prof. B S Mahapatra
Vice Chancellor
Vande Mataram
"Education is the manifestation of perfection already in men." – Swami Vivekananda
 Agriculture is the main pillar of modern civilization. Whole Indian population depend on agriculture for their food and fibre. Considering the fact, India established many State Agricultural Universities (SAUs) to serve the nation. Bidhan Chandra Krishi Viswavidyalaya (BCKV), one of the SAUs was established in the year 1974 at Mohanpur, Nadia. Since then it serves the population of West Bengal as well as India in many ways. Being the Alumni of the prestigious university, I am overwhelmed to express my gratitude to the Almighty for being the Vice-Chancellor to pay tribute to my mother university.
The university has three main pillars namely academics, research and extension. Everywhere, the university has been placing its glory by preparing fine agricultural experts from the creamy layer of students, releasing new varieties, technologies, methodologies and distributing the same to the farming community. BCKV is a family which binds all unseen threads of students, teachers, non-teaching professionals, administrators and labourers in a single one to show them the path of mutualism, cooperation, inspiration, encouragement and devotion. Even the glory of sun fades away when stories on BCKV are framed.
I am very fortunate and humble to convey my inner feeling to all BCKVians. Please listen to your inner core of mind. Forget all trivial self-demands, ego, intra competition and all that show us the path of self destruction. Concentrate on the talents, intellects, support, encouragement and inspiration to brighten BCKV in near and far future. Concentrate on your service to the farming community, to the students, to the entrepreneurs, and of course to every single person who need help from BCKV.
I wish to pay tribute to BCKV which is my alma-matter with my service, dedication and devotion. All members are humbly requested to follow the same path which not only render sustainability, but also create opportunities to the students, farmers, entrepreneurs in near and far future.  
Students are our pride and the future of this state and the nation. Let us put every effort for the betterment of students and their future. Hope to see all our beloved students at an early date in the campus – as soon as COVID is over and Government give us a green signal to open the hostels and classes.